Yesterday saw the Award presentation evening for this year's IWPOY held at the Quay Arts Centre, Newport to a packed house. Most of the shortlisted photographers attended and eagerly awaited the announcement of this year's top three winning entries.
After a brief introduction thanks were given to the judges. Chris Barton and Steve Gascoigne gave a short talk on how difficult their task had been due to the quality of the entries this year.  The sponsors were thanked and then the first award of the evening was the presentation of the Julia Margaret Cameron trophy. Provided by Dimbola Lodge, supported by Brian Hinton MBE their chairman, this award is given to a person, not necessarily for their photographic talents, but to someone who promotes photography in whatever form on the Island.
This year's holder of the trophy: started photography at the age of 14; was a member and chairman of Sandown & Shanklin District Camera Club; to this day is the club's president; in 2000 brought together the major camera clubs on the Island for a joint exhibiton at the Quay Arts Centre; runs courses in pinhole photography; supports world pinhole day every year in April; still works with film and traditional darkroom along with a little digital photography and supports and helps other Island photographers where he can.
The JMC trophy  was presented  by Amanda Johnson, who held the trophy for the previous year, to Eric Mitchell. Congratulations to Eric for an award that in our opinion is well deserved. Eric was so pleased and shocked that the only comment he was able to make was "I'm staggered!", probably the shortest acceptance speech of all time but well done Eric.
After a short break Alan Marriott, editor of the Isle of Wight County press was invited to present the certificates to the photographers who had made the shortlist. Finally it was time to announce the top three winners and Chris Barton was asked to present the prizes sponsored by Nikon in association with IPC whilst Alan Marriott agreed to present the certificates along with the canvasses of the winning photographs.
Third place: Mist over Brading – Kelly Fraczynski
Second place: Shanklin Sunrise – Neil Hunt (2007 IWPOY winner)
First place: Spiral into Darkness – Tina Nicholls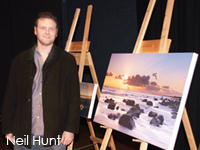 All in all this was a great evening for Island photographers and photography. New contacts and friends were made, skills and talents were recognised and most left in anticipation of the new theme being announced for the 2009 competition.
Congratulations to the top three but congratulations are also due to all who took part, we are excited about seeing your new photographs for IWPOY 2009 so watch this space for the new competition details coming soon…