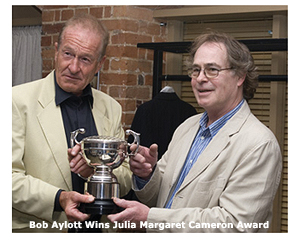 Bob Aylott is this year's recipient of the Julia Margaret Cameron Award Trophy.
The Silver Trophy provided by Dimbola, is presented each year to the person who the IWPOY recognises as having made a great contribution to photography and photographers on the Isle of Wight.
Bob Aylott has done a great deal in support of island photographers over the years. As freelance photographer and former Amateur Photographer Magazine (AP) features editor Bob, regularly focused on Island Photographers, such as last years IWPOY winner David Vennings and local photographers Ian Pratt and Gary Early to name but a few.
David White presented Bob with the Julia Margaret Cameron Trophy at which Bob appeared lost for words "This was such a surprise and I'm very touched"  Watch Video below.
His recent Isle of Wight Festival Book Six Days that Rocked the World was sold out within months of release and nominated for the Best British Book Design of the year award.  A photographic journal of the Isle of Wight Festival in 1970, the book was a compilation of not only Bob's photography and prose, but featured photographs from several Isle of Wight photographers, namely Ken Beken, Doug White, Mike Hardy and Chris Weston.
Whenever Bob visits the Island he is always keen to share his knowledge and has a great deal of time for all photographers including members of the Isle of Wight Digital Imaging Group, and of course the IWPOY.
IWDIG Founder & IWPOY Administrator, Gary Early, said:
Not only are we very grateful to Bob for his judging skills but a special thanks is also due to him for donating a signed copy of his book the Isle of Wight Festival: 'Six Days that Rocked the World' as an additional prize for the overall IWPOY winner.
The Julia Margaret Cameron Award (JMC) Trophy was commissioned by Dimbola in 2007, the former home of the pioneering Victorian female Photographer. The JMC Trophy is presented annually to the person who has provided the most benefit to island photographers and photography.
Thanks to Christian Beasley for providing this video, which provides an overview of the Isle of Wight Photographer of the Year Awards. Over 100 people attended with 30 photographers receiving awards and Christian received one too!